Event Details
Game Rules
2023 NCAA Rules and Regulations, with below exceptions
2028, 2027, and High School levels:
Referees discretion to impose a 30 second count ("Timer On") and require a shot on goal if it is determined a team is stalling
On flag down situation play continues until usual stoppage or defense gains possession. Ball can come out of the restraining box and play continues. If ball is loose and fouling team commits a technical foul, it is a time serving foul.
Change of Possession Offside- Ball is re-started at location whistle blown.
Time Outs- can only be called in offensive zone or during a dead ball.
No horns.
You have 20 seconds to clear the ball over the midline
After 20 seconds of possession, the ball cannot cross back into your defensive half of the field, unless there is a change of possession.
Sticks heads must either meet NCAA or Federation standards.
Faceoff:

3 illegal procedures in a half by a team results in a 30 second penalty.
SNG: Standing, Neutral Grip
2029, 2030 and 2031 Same HoganLax rules as above with below exceptions:
37" is shortest stick permitted.
2032-2033 Same HoganLax rules as rules above with below exceptions:
No "take out" body checks. Body contact is allowed.
No counts
Longest pole is 60" in length. No more than 4 sticks between 44"-60."
Mercy rule, if a team is winning by 5 goals or more, the losing team will be awarded the ball after all goals at the faceoff x.
Horns on sidelines and after flag down situations.
EMO and EMD
Horns permitted
Applicable to all game:
2 22-Minute Halves
Time, penalty, and game kept at the scorer's table
Stop time last 2 minutes of game
1 Timeout per team, clock stops
Penalty time is stop-start
Overtime:

Pool Play: 1 4-minute sudden victory period, 1 timeout per team
Bracket Games, 1 non-timed sudden victory period until winner, 1 timeout per team
Field timer must be made aware of any game disputes immediately following the game. Field timer will report issue to Information Tent.
Seeding
Pool Seeding
In the case of ties in the final standings for pool play, the following process will be used until all ties are broken and the seeding process is completed (ties will be broken in rank order beginning with the first procedure).
If more than two teams are tied for a pool or division seed, once one team is removed from the tie, the seeding criteria reverts back to the beginning of the procedure for the remaining teams tied.
Tie Breaker Procedure:
1. Head-to-Head.
2. Record vs Team(s) tied with.
3. Total goals against teams tied with; only games where tied teams played each other.
4. Goal differential teams tied with (goal differential will not exceed +/- 7 per game), only games involving teams tied with.
5. Total goals against common opponents.
6. Goal differential against common opponents (goal differential will not exceed +/- 7 per game).
7. Goals against overall.
8. Goal differential overall.
9. Coin flip.
*Seeding in a 5 or 7 team pool in which the teams do not play everyone, pool seeding will be determined by:
1. Winning percentage
2. Goals against average
Divisional Seeding
HoganLax divisional seeding will follow below criteria after pool seeding is determined.
1. Seed in Pool.
2. Overall Record.
3. Goals Against Average.
4. Goal Differential (goal differential will not exceed +/- 7 per game).
5. Coin Flip
*If teams from the same program are scheduled to play in the first round of the non-championship bracket, HoganLax reserves the right to change the seeding.
Goal Differential is limited to +7/-7 per game
Locations
Lebanon Valley College
100 Heisey Rd,
Annville, PA 17003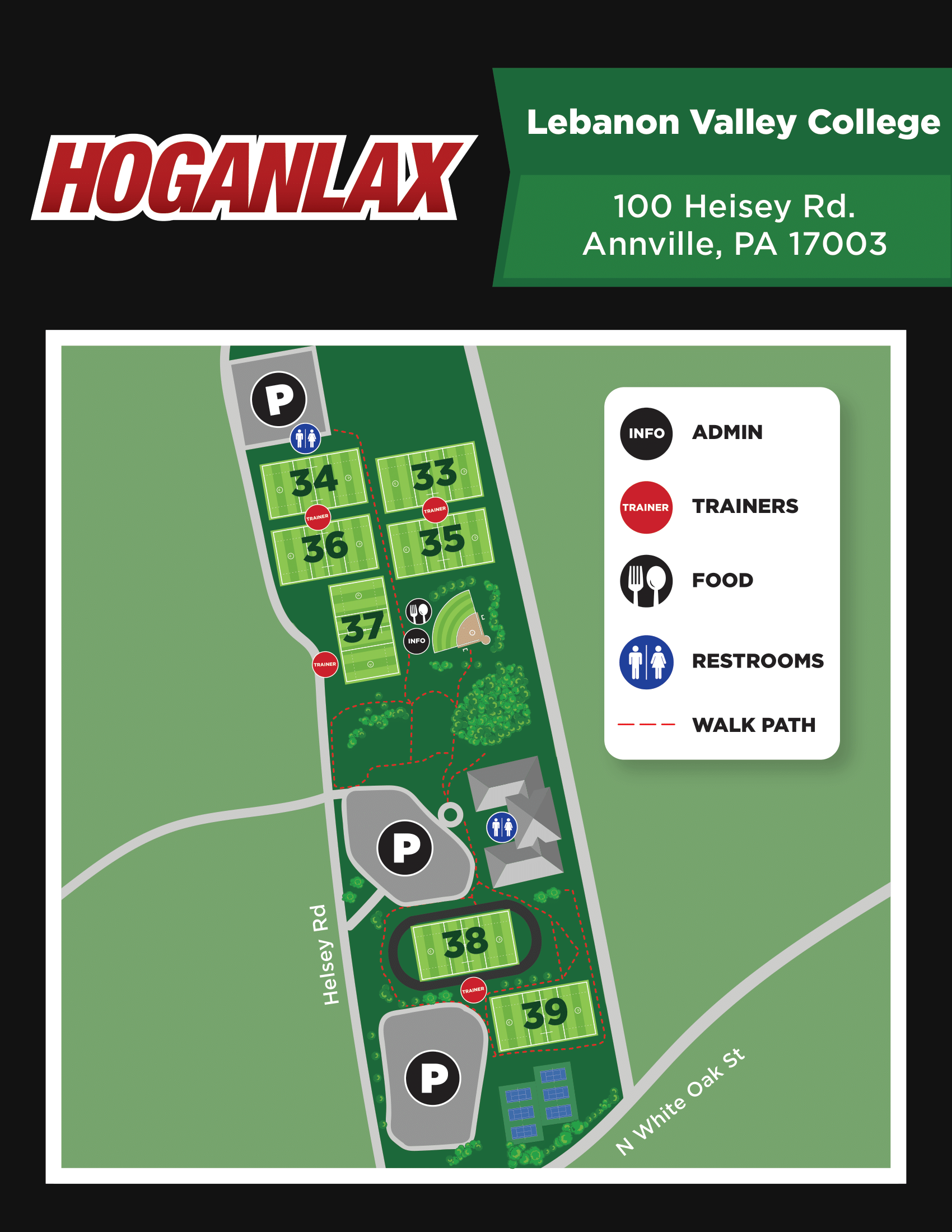 In The Net
798 Airport Rd,
Palmyra, PA 17078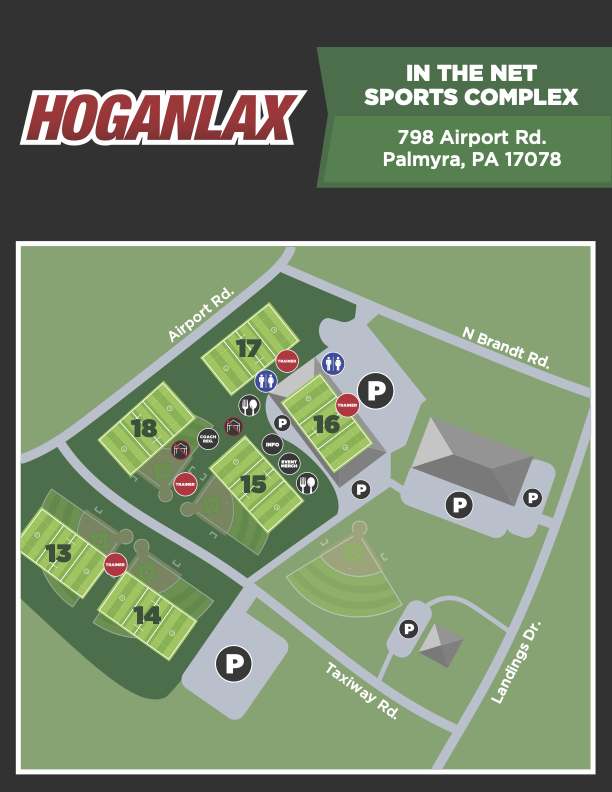 Ridge Road Fields
500 Ridge Rd,
Palmyra, PA 17078