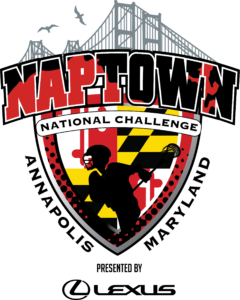 June 24-26, 2024
Annapolis, MD
---
Game format
2025-2028
Monday: 2 games, then seeded by committee
Tuesday: at least 3 Championship Bracket games, except for teams with first-round byes
Wednesday: Semi-Finals at Annapolis HS and Finals at Navy Stadium
2029-2031
Monday: 3 Pool games, then seeded by Pool play
Tuesday: at least 2 Championship Bracket games
Wednesday: Championship games at Crofton High School Stadium
Cost
2028-2025- $5,000
2031-2029- $2,400
Payment schedule
2024 Payment Schedule – Teams may pay Naptown National Challenge registration fee in three installments, based on the following schedule
| Payment | Date | High School | Youth |
| --- | --- | --- | --- |
| Deposit | Upon Registration | $500 | $500 |
| Payment 2 | 11/1/22 | $1,500 | $1,200 |
| Payment 3 | 3/1/23 | $3,000 | $700 |
| Total | | $5,000 | $2,400 |
2025
A, B, all players in 11th grade or lower during the 2023-2024 school year
2026
A, B, all players in 10th grade or lower during the 2023-2024 school year
2027
A, B, all players in 9th Grade or lower during the 2023-2024 school year
2028
Age Requirement: No Player born before June 1, 2008 may participate in 2028
Grade Requirement: Player MUST be in 8th grade (2023-2024 school year) or below.
2029
Age Requirement: No player born before June 1, 2010 may participate in 2029
Grade Requirement: Players in 7th grade (during the 2023-2024 school year) MUST participate in the 2029 grade designation or above (2028) pending age requirement
*Players born before June 1, 2010 in 7th grade must participate in the 2028 Division.
2030
Age Requirement: No player born before June 1, 2011 may participate in 2030
Grade Requirement: Players in 6th grade (during the 2023-2024 school year) MUST participate in the 2030 grade Division or above (2029, 2028).
*Players born before June 1, 2011 in 6th grade must participate in the 2029 (7th grade) or older grade designation.
2031
Age Requirement: No player born before June 1, 2012 may participate in 2031
Grade Requirement: Players in 5th grade (during the 2023-2024 school year) MUST participate in the 2031 grade Division or above (2030, 2029, etc.) pending age requirement.
*Players born before June 1, 2012 in 5th grade must participate in the 2030 (6th grade) or older grade designation.
***A player cannot play in a lower grade than he is in during the 2023-2024 school year regardless of his age.
No 2024 High School Graduates can play in HoganLax events
| Division (Rostered) | Team Name |
| --- | --- |
255 coaches showed up to the Naptown Challenge in 2023
College
Lafayette
Mount Union
Gettysburg
High Point University
Marist
Holderness School
Heidelberg
Jacksonville
Lynn University
Saint Michaels College
Utica
Holy Cross
Wabash College
Limestone University
Bellarmine University
Iona University
American International College
Bridgewater College
Merrimack College
Hampton University
Canisius
University of Alabama in Huntsville
Mars Hill University
Keystone College
Aurora University
Berry College
Lebanon Valley College
Puritans Hylands
Queens University of Charlotte
Wingate University
St Bonaventure University
Greensboro College
Widener University
Stockton University
Loyola MD
Duke University
Baldmin Wallace University
Lewis University
Florida Southern
Lawerence University
College of Wooster
UMBC
Saint Leo
Army West Point
Yale University
Allegheny College
Frederick Gunn
Monmouth University
University of Mary Washington
Washington & Lee University
Bucknell University
Harvard University
Colorado College
Cornell University
Ohio State
Lake Erie College
Anderson University
Williams College
St Joseph's University
Lindenwood
Maryville University
Lenoir-Rhyne University
Wittenberg
Seton Hill
Towson University
University of Montevallo
Lander University
St John Fisher College
Denison University
Oberlin College
Binghamton University
University of Pennsylvania
Hobart
Stony Brook
Marquette University
Navy
Colby College
Johns Hopkins
Mercer University
Swarthmore College
Catawba College
Flagler College
Lincoln Memorial University
Navy
Misericordia
Georgetown University
Umass
Bates
Brown
University of Virginia
Loomis Chaffee
Richmond
Mount Olive
Providence College
Sewanee
Hamilton College
Michigan
Air Force
Bryant
Elizabethtown
St Marys College of MD
Syracuse University
Georgetown University
Amherst
High Point University
University of Vermont
University of Maryland
Lehigh
Rollins
Hampten Sydney College
Desales University
St John's
Dartmouth
Rutgers
Middlebury College
Hood College
VMI
Randolph-Macon
Pfeiffer University
Mount Saint Marys College
Tiffin University
Ursinus
Hotchkiss School
Notre Dame
Florida Tech
Princeton
Eastern University
Wesleyan University
Le Moyne College
Belmont Abbey College
Otterbein University
Mount St Marys
RIT
Virginia Wesleyan University
Juniata College
Christopher Newport University
University of Tampa
Drexel University
Umass Boston
Bowdoin
Harford CC
Capital University
Stevenson
Lynchburg
Guilford
York College
Marrietta
Georgetown University
McDaniel College
Frostburg University
NJIT
Delaware Valley University
Rutgers
University of Delaware
UNCW
University of Utah
Salisbury University
Ohio Wesleyan University
Robert Morris
Fairfield University
Westminster College
Quinnipiac
Manhattan College
Haverford College
Kenyon College
Mercyhurst University
Penn State
Emerson
Trinity College
Rhodes College
Wagner College
Roanoke College
Dickinson College
North Greenville
Carthage
Wheeling
The parking lot at Gate 5 on Taylor Avenue will open at 10:30AM. It is strongly recommended to pre-purchase parking to save time upon arrival here:
*PREPAY PARKING WILL SHUT OFF THE NIGHT BEFORE CHAMPIONSHIP DAY*
If not purchased in advance, parking is $10 CASH ONLY on site.
Stadium gates will open at 11:00AM. Gate C/D will be the ONLY fan gate open for stadium access. Tickets not purchased in advance can also be purchased at the Ticket and Will Call tents outside Gate C/D, or by scanning the QR code signage outside the gate!
Each ticket purchase allows fans access to ALL FOUR games. However, please be advised: There is no re-entry at Navy-Marine Corps Memorial Stadium. Once you leave the stadium, if you wish to re-enter you will be asked to purchase another ticket.

HoganLax Header 1.1
2023 NAPTOWN CHALLENGE CHAMPIONS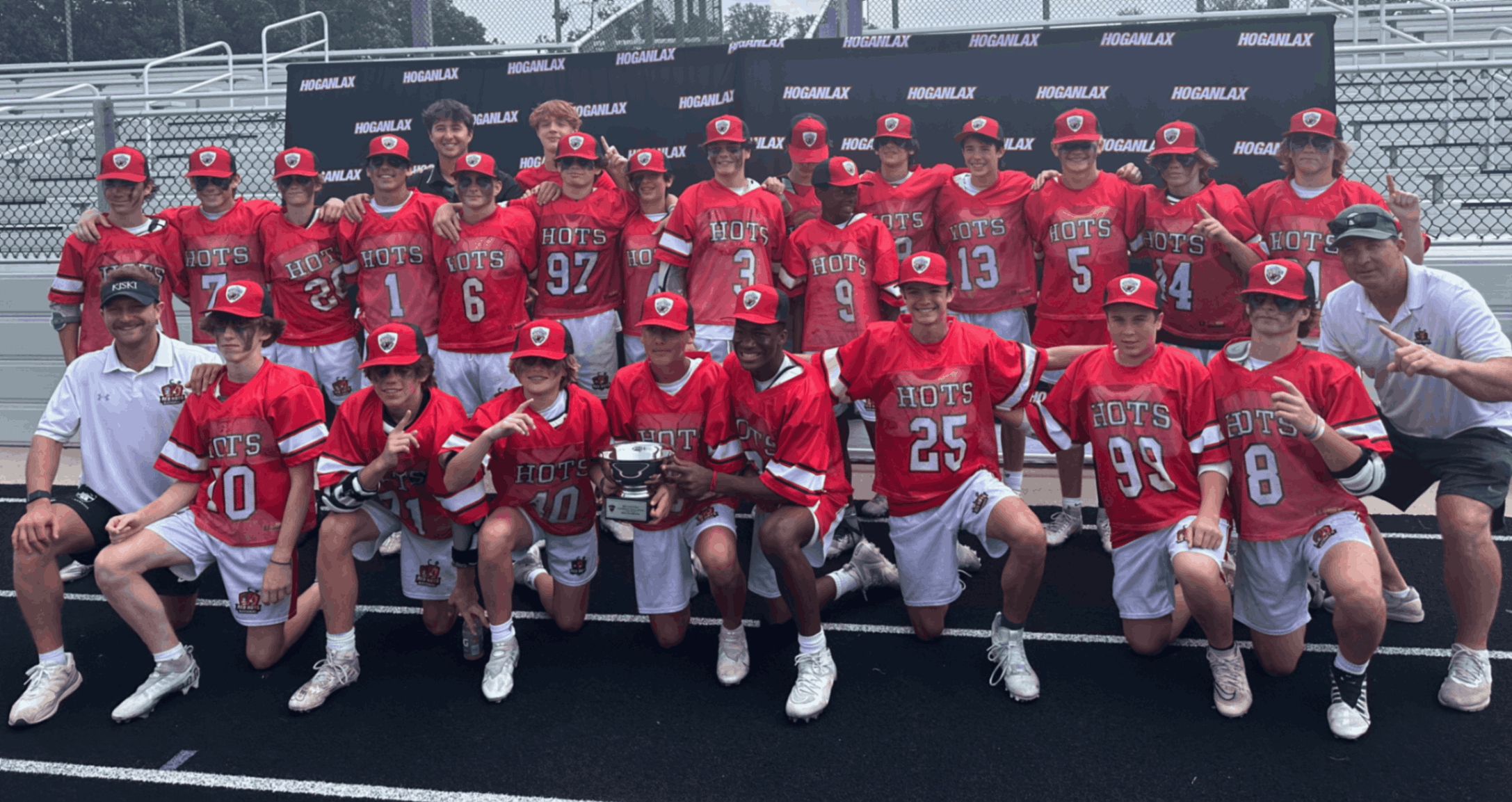 2028 Champion
Red Hots National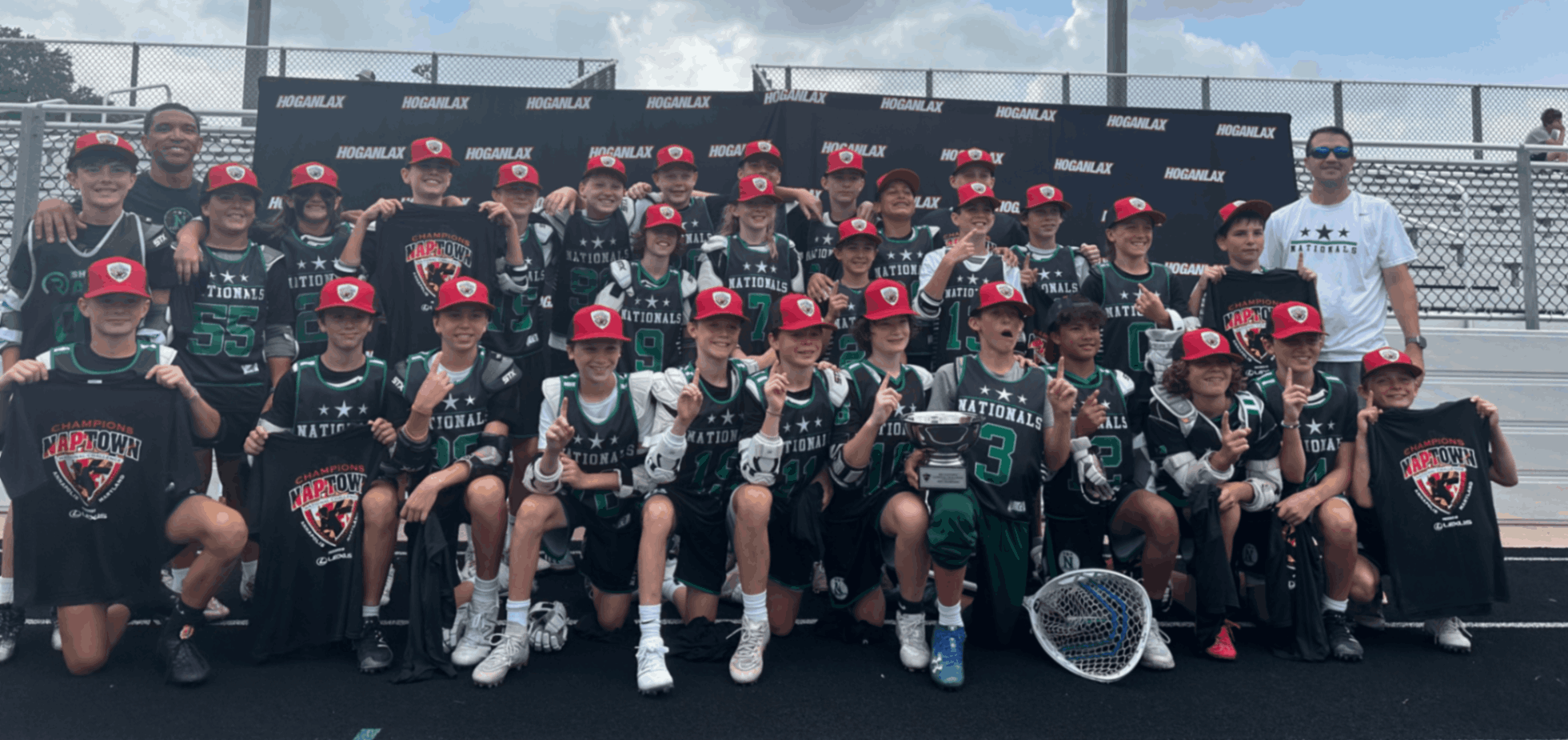 2029 Champion
Nationals LC 2029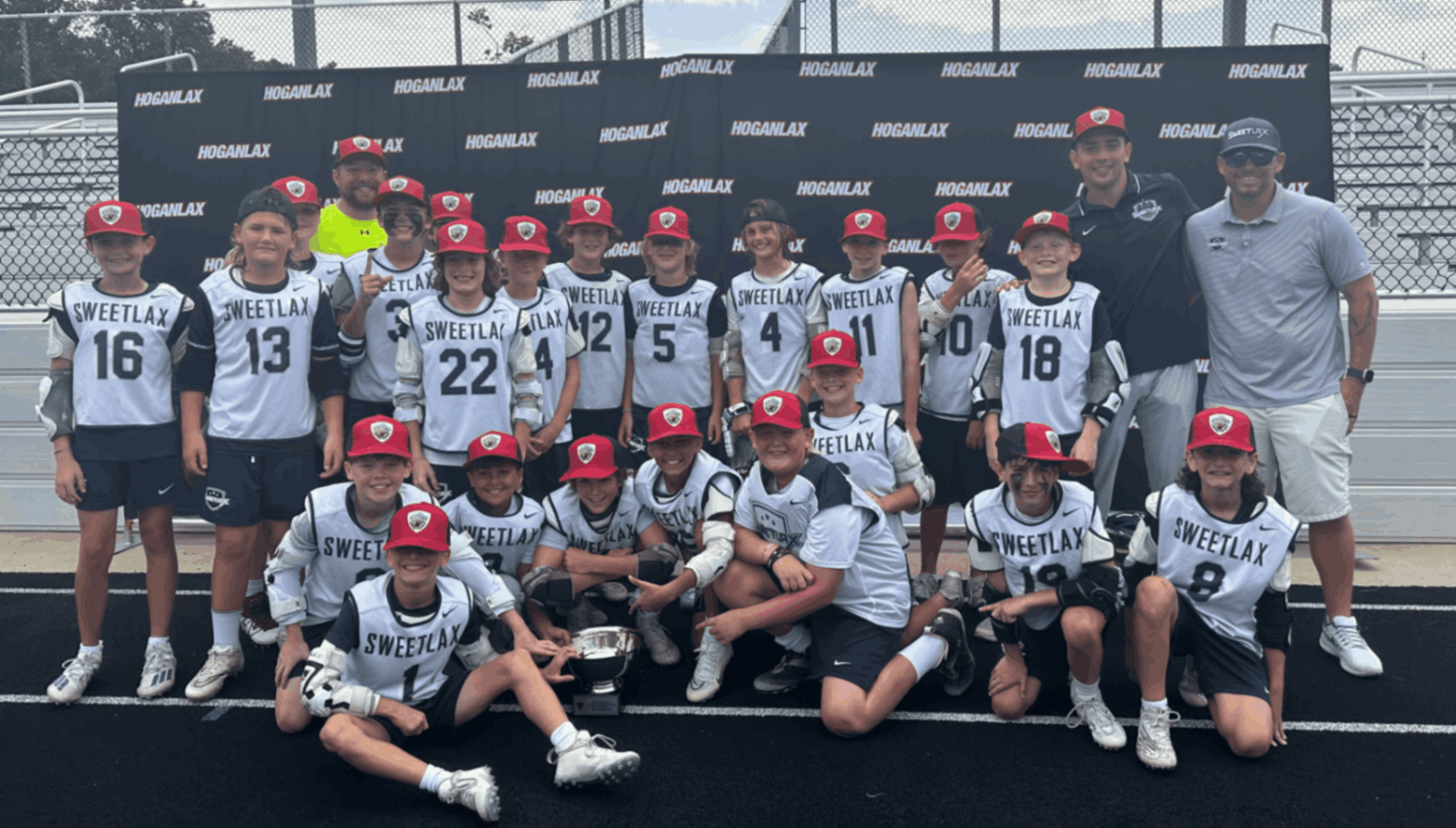 2030 Champion
Sweetlax Navy
Policies, Rules, & Regulations
Player Eligibility
All players must compete in the division with the class they were in during the 2022-2023 Academic year.
Players can always play up a division but not down. Regardless if a player will repeat in the future or plans to do a Post Graduate year, he must play with in the Division in which his class would graduate.
Players can only play for one team during the tournament.
Only players who are registered and appear on team submitted roster are permitted to play in tournament.
Players enrolling in a Post Graduate year may play in the "oldest" Division the tournament offers, with proof of enrollment.
2023 NCAA Rules and Regulations
---
Game Rules
2024 division will play with an NCAA shot clock
2025 – 2030 divisions – Referees discretion to impose a 30 second count ("Timer On") and require a shot on goal if it is determined a team is stalling
No Dives
Faceoffs
Faceoff personnel must have color tape
SNG: Stand-Up Neutral Grip
Game Time
Last 2 minutes of game is stop time
Penalty time is stop time, always
Time (penalty, game, half) will be kept at the score table
Each team has 2 timeouts per game (Clock stops)
2024-2027:
Monday: Two 22-minute running halves
Tuesday & Wednesday: Four 12-minute running quarters
2028-2030:
Monday, Tuesday & Wednesday: 22-minute running halves
Overtime:
Monday
1 – 4 minute sudden victory period. If no one scores, game will end in a tie
Each team has 1 timeout in overtime. Clock stops
Tuesday & Wednesday
1 continuous untimed sudden victory period until there is a winner
Each team has 1 timeout in overtime
Any player, fan or coach ejected from the game will be prohibited from competing in his/her team's next game. Decisions on the field will be the final ruling. Any fighting or flagrant disrespect toward an official will result in expulsion for the remainder of the tournament. No Exceptions, No Refunds.
Seeding
2024-2027 (High School)
High School teams will play 2 games on Monday. Each Division has a selection committee who will watch the teams play. The committee will then seed their respective divisions. All teams will be seeded in the Championship Bracket that begins play on Tuesday morning. Most teams will play at least 3 games on Tuesday. Teams who receive a first-round bye may only play 2 games on Tuesday if they lose their first or second game.
Championships will occur on Wednesday starting at 12:00 pm and occurring every 2 hours until last game starts at 6:00 pm. Any team that does not play in all scheduled games will not be invited to attend Naptown the following year. All teams are expected to participate in all games on Tuesday, regardless of Championship bracket outcome.
2028-2030 (Youth)
Youth teams will be placed in Pools prior to the start of play. On Monday teams will participate in Pool games. All teams will then be seeded at the end of pool play on Monday. All teams will be seeded in the Championship Bracket that starts play on Tuesday morning with the Championship game played on Wednesday morning at Annapolis HS.
Pool Seeding (Youth Teams)
In the case of ties in the final standings for pool play, the following process will be used until all ties are broken and the seeding process is completed (ties will be broken in rank order beginning with the first procedure). If more than two teams are tied for a pool seed, once one team is removed from the tie, the seeding criteria reverts to the beginning of the procedure for the remaining teams tied.
Tie Breaker Procedure:
Head to Head.
Record vs Team(s) tied with.
Total goals against teams tied with, only games involving teams tied with.
Goal differential with teams tied with (goal differential will not exceed +/- 7 per game).
Total goals against versus common opponents.
Goal differential versus common opponents (goal differential will not exceed +/- 7 per game).
Goals against overall.
Goal differential overall.
Coin flip.
Any 2028-2030 team that plays 4 games on Monday, the 4th game will not count toward their pool play record, GA, GD. The game does count for their opponent.
Divisional Seeding (Youth Teams):
Divisional seeding will follow below criteria after pool seeding is determined.
Seed in pool
Overall Record
Goals Against Average
Goal Differential (goal differential will not exceed +/- 7 per game).
Weather Policy
In the event of adverse weather or unplayable field conditions, the tournament director reserves the right to:
Reduce game times in order to catch up with schedule.

Finish games before inclement weather arrives, or to preserve field conditions.

Reschedule games, if possible.

Convert tournament to a "festival" format without playoffs or championships to provide the majority of teams the opportunity to play as many games as possible.
Every attempt will be made to update cancellations on the website. However, weather conditions can change rapidly and all teams should be prepared to play as soon as weather and fields are playable.
The directors of hoganlax.com, LLC reserve the right to cancel, shorten, or reschedule tournament games due to inclement weather, poor field conditions, or player and fan safety concerns. No refunds will be granted if these actions are necessary. Field directors will communicate game changes. Schedule changes will be available at the Administration Tent and online at www.hoganlax.com
Thunder/Lightning Policy
If thunder or lightning is observed play will be suspended immediately and players and fans will be asked to leave the fields to return to cars. Play will be allowed to resume 20 minutes after the last sound of thunder or sighting of lightning is observed which will be determined by the tournament medical staff. Every attempt will be made to begin subsequent games on time. Subsequent games will begin immediately after preceding games. These games may consist of one 30 minute running time period until games are back on schedule. Once games are back on schedule they will revert to "normal" tournament game time procedures.
2023 Cancellation & Refund Policy
Teams that cancel by May 1, 2023:
Option 1: Receive 90% refund (minus 10% administrative fee).
Option 2: Defer payment to 2024 Naptown National Challenge.
Teams that cancel on or after May 1, 2023:
Canceling due to team's decision: No refunds will be issued.
NLV is the official and exclusive video company for this event. As such, they are the only party permitted to provide commercial and elevated filming services to the high school divisions at this event. Any unauthorized elevated filming is strictly prohibited and will be enforced on-site.
Spectators may film their own matches for personal use, so long as it does not interfere with NLV's ability to record matches and they do not use elevated filming equipment that extends more than 1 foot above their natural head height.
No Veo cameras, Trace cameras, Hi-Pods, or other devices on similar nature will be permitted to record the high school age divisions. Violators of this policy will be made to remove their equipment and subject to action by NLV to exercise their legal media rights to this event.
NAPTOWN CHALLENGE SPONSORS