July 8-9, 2023
You're in for a Treat
Hogan Hershey is in our 12th Year, and it's getting better each year. Fantastic fields, site, and opportunity to attend one of the best parks in the East. Couple of turf fields, an indoor field, and some of the best grass fields. We will start closing Divisions first week of June.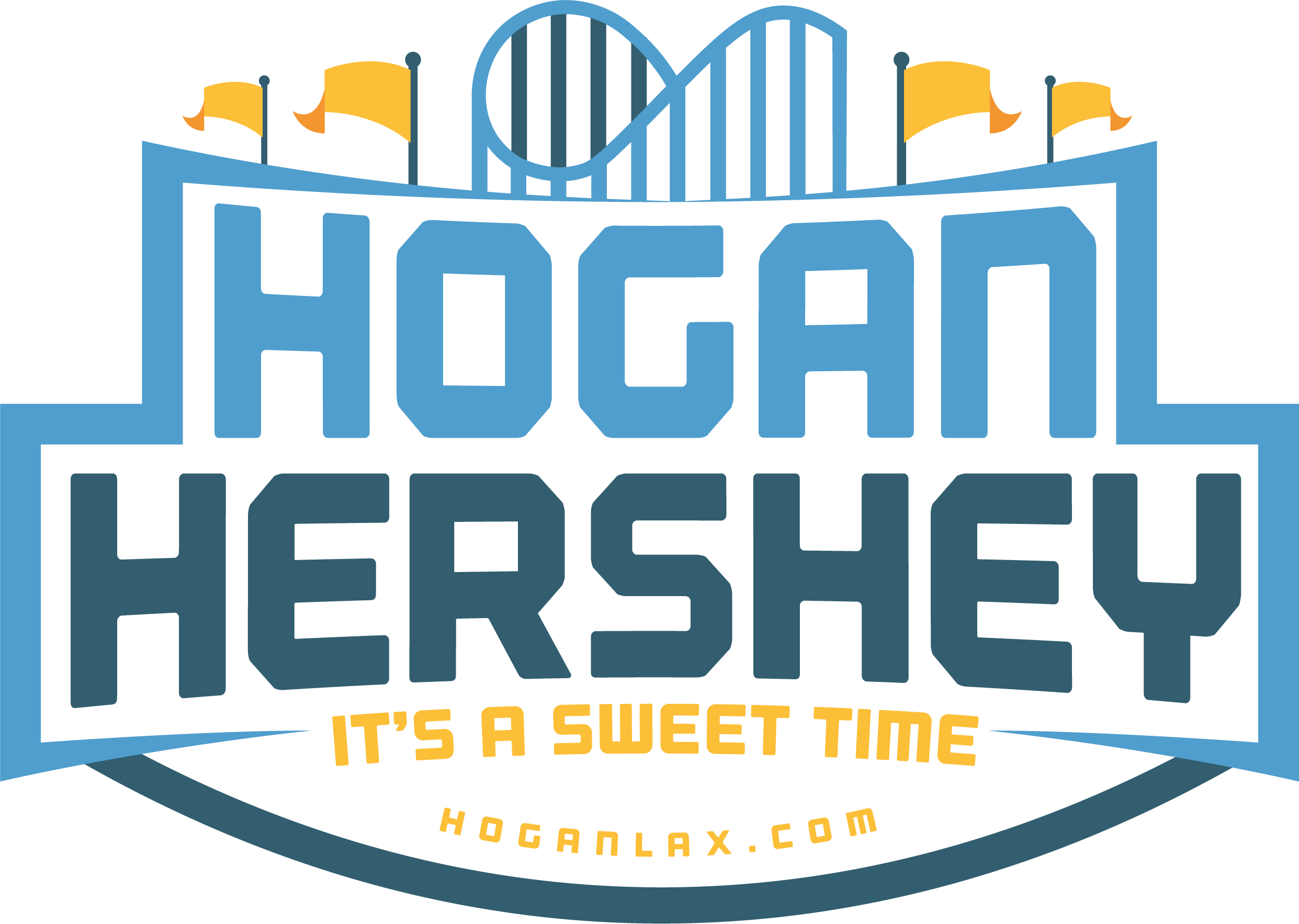 July 8-9, 2023
Hershey, PA
Playing Sites: In The Net, Central Dauphin East High School, Ridge Road Fields, and Palmyra HS.
All Teams play 3 games Saturday, and 2 on Sunday
Let us know of any Special Schedule requests on Coaches Registration
First games will start at 8:00 am
We hope to have all games completed on Sunday by 5:00 pm
This is a large tournament over 200 teams from all over the country and Canada
Come to Hershey where the competition will be tough while you play on grass and turf fields. This is a 10 v 10 tournament with officials and lots of fan support.
Early Bird $2,075
If full payment is received by February 1, 2023. Authorize HoganLax to run your card on February 1 to ensure you receive the Early Bird Discount
Non-Early Bird- $2,175
After February 1, 2023
Half fee is required to hold spot.
Full payment must be received by May 1, 2023. Authorize HoganLax to run your card on May 1 to ensure you are paid in full on time.
Registration is open.
2033 AA, A, all players in 2nd Grade or lower during the 2022-23 school year

2032, AA, A, B, all players in 3rd Grade or lower during the 2022-23 school year

2031 AA, A, B, all players in 4th Grade or lower during the 2022-23 school year

2030 AA, A, B, all players in 5th Grade or lower during the 2022-23 school year

2029 AA, A, B, all players in 6th Grade or lower during the 2022-23 school year

2028 AA, A, B, all players in 7th Grade or lower during the 2022-23 school year

2027 AA, A, B, all players in 8th Grade or lower during the 2022-23 school year

High School JV, A, B

High School Varsity, A, B
No 2023 High School graduates can play in HoganLax events
If you have questions regarding the standards please feel free to call us.
We do NOT extend waivers to our Standards. We wish to provide all of our teams a level playing field.
Any team found to have players who do not meet our Standards will be removed from the tournament without refund.
The GRADE divisions are based on GRADE you are in during the 2022-23 school year. Your Eligibility for GRADE based is not affected If you plan to do a Post Graduate year or repeat a grade sometime in the near or distance future. It is based on the GRADE you were in school during the 2022-23 school year.
Please note the below policies of the site we are using for this tournament. We appreciate all participants understanding and supporting these policies.
No Dogs Permitted at In The Net

Dogs permitted at all other sites if on a leash

No Grilling or Catered Outside Food Permitted

No Parking on grass unless directed to by tournament staff.

HoganLax.com and site are not responsible for any tents, chairs, team equipment left in the site overnight.
| Division (Rostered) | Team Name |
| --- | --- |
Policies, Rules, & Regulations
In the event of adverse weather or unplayable field conditions, the tournament director reserves the right to:
Reduce game times in order to catch up with schedule.

Finish games before inclement weather arrives, or to preserve field conditions.

Reschedule games, if possible.

Convert tournament to a "festival" format without playoffs or championships to provide the majority of teams the opportunity to play as many games as possible.
Every attempt will be made to update cancellations on the website. However, weather conditions can change rapidly and all teams should be prepared to play as soon as weather and fields are playable.
The directors of hoganlax.com, LLC reserve the right to cancel, shorten, or reschedule tournament games due to inclement weather, poor field conditions, or player and fan safety concerns. No refunds will be granted if these actions are necessary. Field directors will communicate game changes. Schedule changes will be available at the Administration Tent and online at www.hoganlax.com
Thunder/Lightning Policy
If thunder or lightning is observed play will be suspended immediately and players and fans will be asked to leave the fields to return to cars. Play will be allowed to resume 20 minutes after the last sound of thunder or sighting of lightning is observed which will be determined by the tournament medical staff. Every attempt will be made to begin subsequent games on time. Subsequent games will begin immediately after preceding games. These games may consist of one 30 minute running time period until games are back on schedule. Once games are back on schedule they will revert to "normal" tournament game time procedures.
2023 NCAA Rules and Regulations, with below exceptions
2028, 2027, and High School levels:
Referees discretion to impose a 30 second count ("Timer On") and require a shot on goal if it is determined a team is stalling
On flag down situation play continues until usual stoppage or defense gains possession. Ball can come out of the restraining box and play continues. If ball is loose and fouling team commits a technical foul, it is a time serving foul.
Change of Possession Offside- Ball is re-started at location whistle blown.
Time Outs- can only be called in offensive zone or during a dead ball.
No horns.
You have 20 seconds to clear the ball over the midline
After 20 seconds of possession, the ball cannot cross back into your defensive half of the field, unless there is a change of possession.
Sticks heads must either meet NCAA or Federation standards.
Faceoff:

3 illegal procedures in a half by a team results in a 30 second penalty.
SNG: Standing, Neutral Grip
2029, 2030 and 2031 Same HoganLax rules as above with below exceptions:
37" is shortest stick permitted.
2032-2033 Same HoganLax rules as rules above with below exceptions:
No "take out" body checks. Body contact is allowed.
No counts
Longest pole is 60" in length. No more than 4 sticks between 44"-60."
Mercy rule, if a team is winning by 5 goals or more, the losing team will be awarded the ball after all goals at the faceoff x.
Horns on sidelines and after flag down situations.
EMO and EMD
Horns permitted
Applicable to all game:
2 22-Minute Halves
Time, penalty, and game kept at the scorer's table
Stop time last 2 minutes of game
1 Timeout per team, clock stops
Penalty time is stop-start
Overtime:

Pool Play: 1 4-minute period, 1 timeout per team
Bracket Games, 1 non-timed period until winner, 1 timeout per team
Field timer must be made aware of any game disputes immediately following the game. Field timer will report issue to Information Tent.
Pool Seeding
In the case of ties in the final standings for pool play, the following process will be used until all ties are broken and the seeding process is completed (ties will be broken in rank order beginning with the first procedure).
If more than two teams are tied for a pool or division seed, once one team is removed from the tie, the seeding criteria reverts back to the beginning of the procedure for the remaining teams tied.
Tie Breaker Procedure:
1. Head-to-Head.
2. Record vs Team(s) tied with.
3. Total goals against teams tied with; only games where tied teams played each other.
4. Goal differential teams tied with (goal differential will not exceed +/- 7 per game), only games involving teams tied with.
5. Total goals against common opponents.
6. Goal differential against common opponents (goal differential will not exceed +/- 7 per game).
7. Goals against overall.
8. Goal differential overall.
9. Coin flip.
*Seeding in a 5 or 7 team pool in which the teams do not play everyone, pool seeding will be determined by:
1. Winning percentage
2. Goals against average
Divisional Seeding
HoganLax divisional seeding will follow below criteria after pool seeding is determined.
1. Seed in Pool.
2. Overall Record.
3. Goals Against Average.
4. Goal Differential (goal differential will not exceed +/- 7 per game).
5. Coin Flip
*If teams from the same program are scheduled to play in the first round of the non-championship bracket, HoganLax reserves the right to change the seeding.
Goal Differential is limited to +7/-7 per game
Only currently registered players on hoganlax.com, for the specific tournament and who agree to the "Release and Waiver of Liability, Assumption of Risk, and Indemnity and Parental Consent AGREEMENT," may participate in tournament games. It is the coach's responsibility to ensure all of his team members are registered. This can be confirmed on the Player Page for each tournament. Hoganlax.com will notify a coach if a player did not agree to the Release and Waiver of Liability, Assumption of Risk, and Indemnity and Parental Consent AGREEMENT.
Players may play "up" in age/grade groups, but may NOT play "down."
Any team that forfeits a game during the tournament will be ineligible to compete in any playoff games. The score for any forfeit will be:
7-0 since the greatest Goals Differential is 7
No player may compete, or be rostered, on more than one team during the tournament. Any team with a player in violation of this rule will forfeit all games in which the player is known to have competed and therefore, forfeit the opportunity to advance to the playoff round.
Tie breaker information is available under Game Rules.
Any player, fan or coach ejected from the game will be prohibited from competing in his/her team's next game.
Decisions on the field will be the final ruling. Any fighting or flagrant disrespect toward an official will result in expulsion for the remainder of the tournament. No Exceptions, No Refunds.
Spectators also need to respect the Officials and the Players. Bad behavior will not be tolerated. Should referees or tournament director deem a spectator, player, or coach needs to be removed from the site(s) of the tournament, it will be the responsibility of the coach from the offender's team to remove the offender from the site(s).
Each field is assigned a Field Timer; the Field Timer will record the score on a scorecard for each game. At the end of each game one referee who officiated the game will sign the scorecard to confirm final score and expulsions. Coaches should check the scorecard on the field if they wish to validate or challenge a score. Any challenges must be made immediately following the game with the Officials and Field Timer, who will contact a tournament administrator to address the issue. Once the scorecard reaches the administration tent the score is considered final.
No team will receive a full refund.

Partial refunds will be issued if the tournament is canceled in whole.

Hoganlax.com will refund all but $250 for any team that registers and withdraws from the tournament prior to March 1 of the year of the tournament.

No refund of any kind for any team that registers and withdrawls anytime on or after March 1 of the year of the tournament.

No refunds will be issued if the tournament is shortened in part for any reason, including inclement weather or any other "Act of God."

No refunds will be issued for playoff or championship games are canceled due to weather.

No refund for any team that is removed from the tournament by the tournament director for using illegal players or behavior that requires the team to be removed from the tournament.

Hoganlax.com, LLC, its officers, employees and staff will not be responsible for any expenses incurred by any team, club or organization if the tournament is canceled in whole or in part. The Tournament along with local County or school officials reserves the right to decide on all matters pertaining to the operation of the tournament and its judgment is final.
​COVID19 REFUND POLICY
Due to the uniqueness of COVID19 HoganLax will credit all those registered summer 2022 teams plus a $100 discount off the Early Bird price for for a HoganLax fall of 2022 or the summer of 2023 event if they cannot attend a summer 2022 event.
If a team wishes to change from one 2022 summer event to another 2021 summer event and apply funds to the new event, that will be permissable if we have not started the schedule for the event.
NLV is the official and exclusive video company for this event. As such, they are the only party permitted to provide commercial and elevated filming services to the high school divisions at this event. Any unauthorized elevated filming is strictly prohibited and will be enforced on-site.
Spectators may film their own matches for personal use, so long as it does not interfere with NLV's ability to record matches and they do not use elevated filming equipment that extends more than 1 foot above their natural head height.
No Veo cameras, Trace cameras, Hi-Pods, or other devices on similar nature will be permitted to record the high school age divisions. Violators of this policy will be made to remove their equipment and subject to action by NLV to exercise their legal media rights to this event.